These days we count on our computers and smartphones for just about everything in our daily lives.
What would you do if you lost yours?
What would you do if lost yours and you had no backup?
There are various ways to backup your Mac or iPhone. As you would expect, the easiest options are provided for free by Apple and work very well.
Mac Backup
For a Mac, we recommend Time Machine. It is built in to the operating system and is incredibly easy to setup and use.
All you need is a blank external hard disk. It does not need to be Apple branded or even mention Apple compatibility.
As soon as you connect the drive to your computer it will ask if you would like to use the drive as a backup: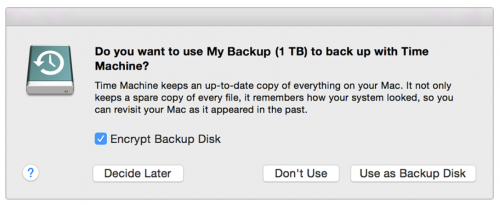 Click "Use as Backup Disk". The encryption button is only necessary if you have data you wish to keep secure. Be aware that if you enable this option and lose the password, you will also lose your data.
If you connected a Mac formatted drive then thats all you need to do.
If the drive was originally formatted for windows, you will be prompted to format the drive. This will wipe everything off the drive, so be sure there is nothing you want on there.
More information can be found on Apple's page here.
iPhone Backup
The iPhone, and iPad have 2 great options for backing up. iCloud and iTunes.
iCloud
iCloud can keep a secure online backup on Apple's servers. This is great as it is updated regularly so that if you lose your iPhone or iPad, you can replace it and retrieve your data and purchases by simply logging into the new device with the same account details.
When you initially setup your device you would have been promted to setup this account and turn the backup on. If you are unsure, you can check by tapping on Settings, then scrolling down and clicking iCloud. You should see your email address entered there and you can look through the list to see what features you have turned on including Backup. If you have no account setup you will be prompted to go through the setup process.
iTunes
While iCloud is awesome, it is also a great idea to do a full backup onto your computer from time to time.
Connect the device to your computer, open itunes. Click File, the go down to Devices and click Backup.
If you have any problems, make sure your copy of itunes is up to date by opening the App store app and selecting updates.
More information on both processes can be found at Apple's own support page here.
For more news and advice on using your Mac and iPhone, check out my blog www.mac-ops.co.nz/Blog,
For drone sales, iPhone and Mac sales and repairs call 0800 622677 or visit out site
[last-modified]