Description
Promate All-in-One USB-C Hub with 87W Power Delivery. 4K HDMI, RJ45 Ethernet Port, 4x USB-A 3.0 Ports. Supports 4K @ 30Hz. Plug and Play. Transfer rate 5Gbps. Colour Grey.
USB-C Adapter for MacBooks launched during 2016 and onwards.
Easily connect UniPort-C to any PC or MacBook using the built-in USB Type-C cable. Featuring an HDMI port, Ethernet port, SD/MicroSD reader and 4x USB ports make the hub an ultimate portable and comprehensive peripherals solution. Thanks to its compact dimensions, the UniPort-C takes up minimal space in your bag, so you can keep it with you all the time. Finally, the plug and play feature ensures hassle-free usage.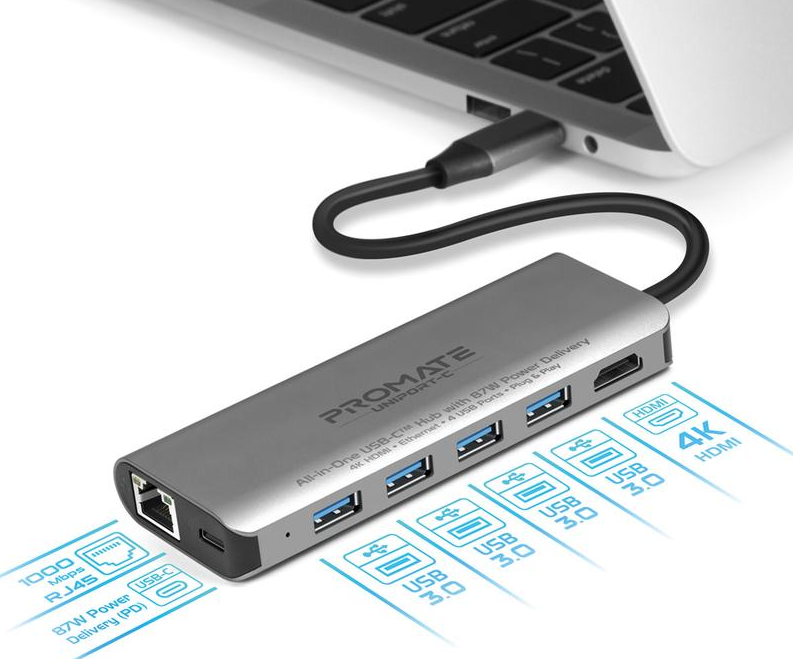 Dive into New Technology
Experience the next generation technology with Promate's UniPort-C a sleek and compact All-in-1 USB TYpe-CHub.
All-in-1 Type-C USB Hub
It gives you all the ports that you used to have on your Laptop and more. UniPort-C features a USB Type-C Charging Port, 3x USB3.0 Ports, USB2.0 HDMI Port and an Ethernet port
The Ultimate 4K Experience
The USB Type-C to HDMI adapter provides a smooth and effortless experience for connecting your USB Type-C-enabled device to your HDTV, 4K/Ultra HDTV, or any other HDMI-enabled display.
Integrated charging port
You do not need to lose the only available charging port, as this USB TYpe-C Hub also includes a "Charging Bridge" that lets you charge your laptop even when using the other ports.
High Transfer Rate
UniPort-C supports high-speed transfer rates of up to 5 Gbps for USB3.0.
Maximised Capacity Limits
Sync your largest videos through UniPort-C, as it supports storage devices up to 2TB capacity

Specifications
Input Interface – USB-C with Power Delivery, 3 USB 3.0 Port, USB 2.0, Ethernet Port, HDMI Port
Output Interface – USB-C
USB voltage – 5V, 900mA
Transfer rate – 5Gbps
OS Support – Windows 10 / 8 / 7, Mac OS X 10.2 (and above)