Want to upgrade the RAM in your Mac?
Mac Ops can upgrade the RAM making your computer run faster and smoother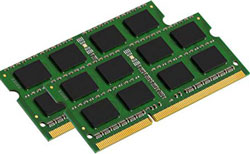 Find out if the RAM can be upgraded in your Mac
Unfortunately, not all Macs can have a RAM upgrade. Just follow the steps below to find out if your model can be upgraded.

Find your Mac model
Click at Apple logo > About This Mac


Check if your Mac is in the list below
MacBook: 
Only the 2008 to 2011 models.
MacBook Pro: 
2009-2012 13″, 2008-2012 15″, and any 17″ model can be updated. If you MacBook Pro has a Retina display the RAM can't be updated.
MacBook Air: 
You can't update the RAM in any MacBook Air models.
iMac: 
The RAM can be updated in the majority of iMacs, with a couple of exceptions: the 21.5″ models from Mid-2014 and Late 2015 had their RAM soldered into place.
Mac mini: 
2010 – 2012 models can be updated, as can the 2018 Mac mini.
Mac Pro:
We can add RAM to any model.
RAM PRICING:
*We will provide a quote based on your model and any labour, testing, and software required as part of the upgrade.
Ready to upgrade the RAM?

Courier computer repairs
from any location in New Zealand.
1. Choose the repair you require
2. Make payment using paypal, credit card, or bank transfer
3. Print or write out a form and include it with your device when you courier it to our office in Queenstown.
4. We fix your computer and free courier it back to you
on the same day

we receive it.
*Clear instructions are included once you have placed an order.
Independent Repairs
We are a specialised independent service and repair business based in Queenstown. We help customers who need repairs from an independent service provider for Apple, Samsung and other smart device products. Repairs that are completed by Mac Ops will be provided with a back to Mac Ops service warranty, however some repairs completed by us could potentially void any associated manufacturers warranty on devices. Mac Ops can facilitate in warranty manufacturer repairs for customers.