Description
DJI OM 4 SE is a foldable stabilizer designed to complement your smartphone, allowing you to start recording right away. Magnetic, ultra-compact, and bursting with easy-to-use features, OM 4 SE is the ultimate solution for sharing your world.
IN THE BOX
DJI OM 4 SE x 1
Magnetic Phone Clamp x 1
Grip Tripod x 1
Power Cable x 1
Storage Pouch x 1
Wrist Strap x 1
Manuals x 1
FEATURES
The DJI OM4 SE (Osmo Mobile 4 SE) is designed to help you capture life's extraordinary moments with perfectly framed, smooth and in-focus videos. This foldable smartphone gimbal stabilizer is designed to compliment your smartphone, allowing you to start recording right away without needing to worry about getting the balance 100% right. Enjoy intelligent features such as Gesture Control, ActiveTrack 3.0, Story Mode and Quick Roll. This mobile gimbal is the ultimate solution for sharing your best moments with the world.
MAGNETIC QUICK-RELEASE DESIGN
The DJI OM4 SE uses either a magnetic phone clamp or a magnetic ring holder to allow the mounting of the smartphone to the gimbal. This simple magnetic attraction makes it really easy to get the OM4 SE up and running in no time. The magnetic clamp has an attraction force of 50N, which will handle even the heaviest smartphones.
The Magnetic phone clamp is incredibly thin and lightweight making it easy to carry around yet it is durable to clamp onto your smartphone.
The Magnetic ring holder (sold separately) attaches to the back of your smartphone and can act as a kickstand, ring holder and will snap straight onto the OM4 SE. With both these magnetic mounts, there is a guide built in to ensure it snaps on with the correct orientation.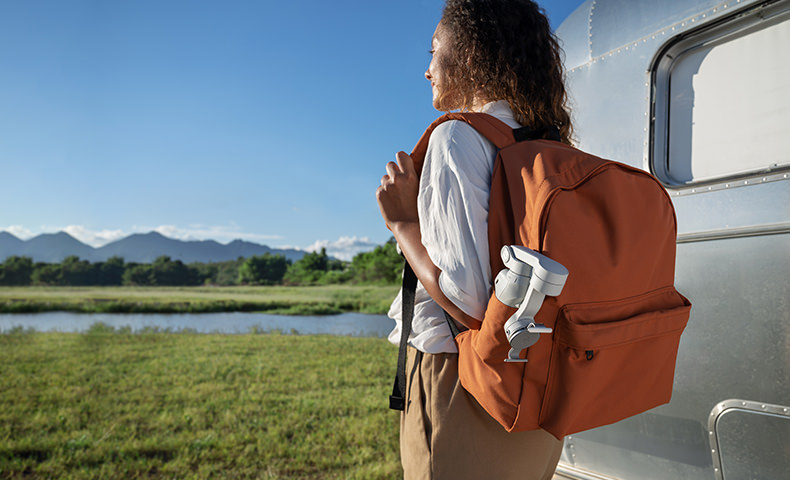 INTELLIGENT FEATURES
The DJI OM4 SE's intelligent features make creating and capturing content extremely easy and is the perfect way to capture your next viral hit (especially in portrait mode) for that latest TikTok trends or any other trends on SnapChat, Instagram Reel or a YouTube Short.
ActiveTrack 3.0
If you've been using ActiveTrack on your DJI Drone, you will love the ActiveTrack on the OM4. It allows you to follow your subject with absolute ease. In the latest update, the OM4 can easily recognise adults, children, pets with even great accuracy. You can also fine tune your framing with the joystick to get it absolutely bang on. This is a great way to capture your own vlogs, recording a lecture/keynote speaker and helps create a cinematic story.
Dynamic Zoom
Dynamic Zoom is a new function that allows you to warp your footage for extra cinematic flair making your friend and family wowed by the end result!
Story Mode
If editing has neve been your strong foot, story mode takes all the stress and hassle away. It's a simple one tap creation where it will automatically help capture footage in an interesting and unique way.
CloneMe Pano
This is a fun mode that allows you to strike a different pose in the panorama where it will pause in between frames to help you move and get ready for the next shot.
Gesture Control
If you're taking a group selfie or a solo-portrait, the gesture control is the way to go where a simple gesture will remotely control the Osmo Mobile 4 to either start recording to take a photo. It's never been easier to snap a pic!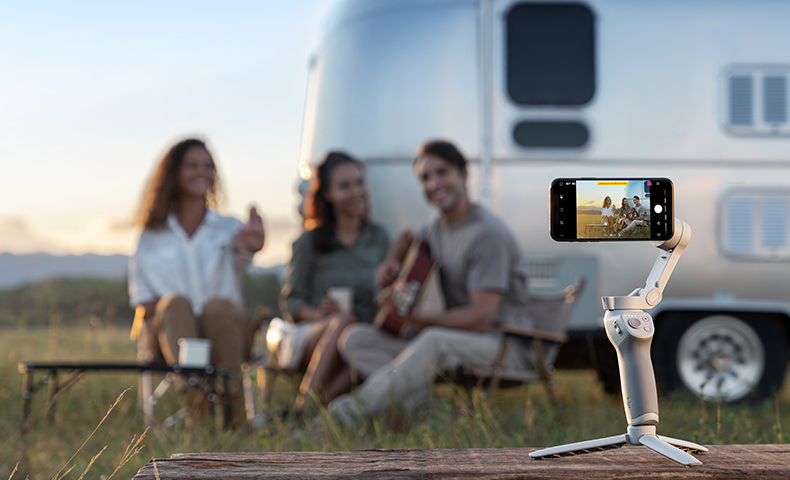 CREATIVE POSSIBILITIES
Time Lapse and Motion Lapse are extremely easy to set-up and execute on the DJI OM4 SE. Simply follow the prompts, angle the OM4 SE and you're all set!
Spin Shot mode adds a new dimension to the OM4 SE where it will perform a parallel roll, which is perfect for transitions in your videos.
Slow Motion will make the most out of high frame rate video on your smartphone.
240 degree panoramas and 3×3 panos allow you to make a super wide and long shot!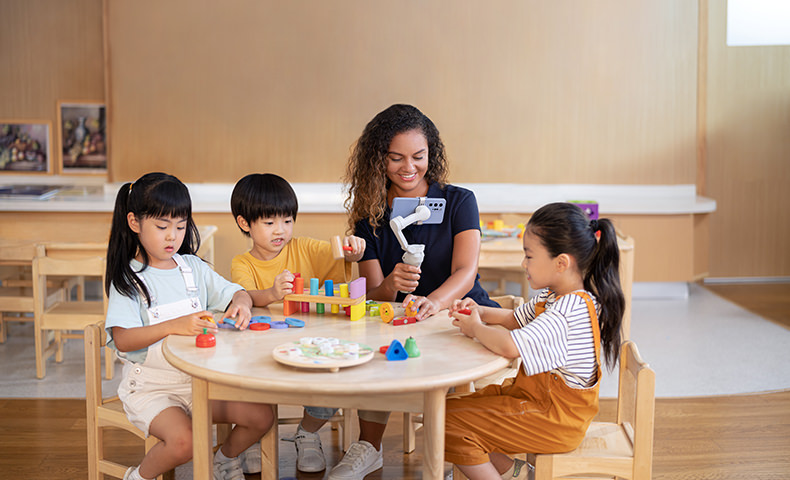 3-AXIS STABILISATION
Never post a shaky video ever again with the superior stabilisation of the OM4 SE. Even with additional lenses mounted onto your phone, the OM4 SE motors are capable enough to keep your smartphone steady and your video buttery smooth.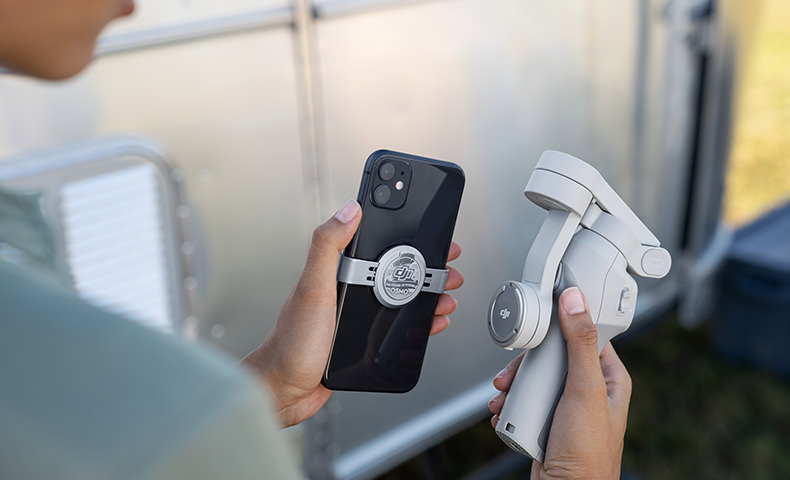 ENHANCED CONTROL
Flashlight Mode
A newly added sensor helps the OM4 SE recognise your movements and automatically adjusts positioning, making low-angle shots easier than ever.
Quick Roll
Press the M button wide to quickly switch between portrait and landscape modes for even more added convenience.
Single-Handed Control
A comfortable and ergonomic grip allows the user to control the gimbal and all buttons with just one hand.
Stand By Mode
Important phone call on the way? Easily pick-up the phone by simply by pulling the phone off the clamp.